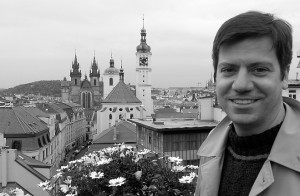 Originally from California, I'm a long-term resident of Prague, where I write journalism about travel and food and drink (often beer), mostly for the New York Times, as well as other publications. I generally cover central and eastern Europe, but I've also filed stories from places like England, Italy, France and Switzerland.
In 2006, I researched and wrote my own guidebook from the ground up: Good Beer Guide: Prague and the Czech Republic (CAMRA, 2007; now out of print), which guided thirsty travelers through all the breweries and all the beers of the world's leading beer-drinking nation. I've also contributed to Fodor's and other guidebooks, writing updates on the Czech Republic, Slovenia, Croatia, Hungary and elsewhere.
My more creative pieces — poems and essays — have appeared in the New Republic, the Times Literary Supplement (TLS), Poetry Review, Agni, Metre, Zyzzyva, and many other journals. My poetry chapbook, Tsunami, was published by Metre in Ireland, just a few weeks before the tsunami of 2004. It was called "a poised debut… full of fruitful dislocations… a challenge to anyone who believes that a vibrant poetry can only emerge from rootedness… [a] marriage of gusto and attentiveness" by Stephen Knight in a review in the TLS. I've performed — meaning "read poetry on stage in front of an audience" — at poetry festivals and events in Bratislava, Berlin, Sarajevo and San Francisco.
I've appeared on television a few times, most famously on the Prague episode of "No Reservations," where I guided Anthony Bourdain through a decrepit Czech brewery, nearly breaking my leg in the process. I've talked about Czech beer with Phil Black on CNN, explained what it feels like to take a beer bath in the "beer" episode of "How Stuff Works" on the Discovery Channel, and been interviewed on a number of radio programs, including the BBC World Service, Deutsche Welle, Radio Prague and Hungarian National Radio, among others. Several anthologies have also featured my work, including Travelers' Tales, Best Food Writing, and The New York Times Book of Wine.
My recent writing has focused on the essay, starting with a bestselling Kindle Single in 2012, Why Beer Matters, as well as a followup, In Praise of Hangovers, later that year. In early 2014 I published another Kindle Single, Why We Fly: The Meaning of Travel in a Hyperconnected Age, which focused on the meaning of the voyage from the point of view of a travel writer, starting with the story of a difficult road trip to Hungary's Tokaj wine region. I'm also working on fiction, publishing Triplebock: Three Beer Stories in 2013. More fiction, memoirs and essays are forthcoming.