WHY WE FLY: THE MEANING OF TRAVEL IN A HYPERCONNECTED AGE
It was supposed to be a routine road trip out to Hungary's Tokaj wine region, on assignment for Condé Nast Traveler magazine. But when the bridge over the Tisza river turns out to be a ferry, and when the old Škoda 120 L then won't start, the result is a humorous and erudite lyric essay on the meaning of travel from the point of view of a working travel writer, and a moving meditation on the nature of life, love and family.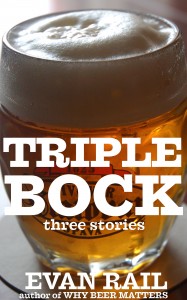 TRIPLEBOCK
Three fictional — but entirely possible — short stories about beer and why it matters.
"Good stuff I highly recommend… filled with lovely little details that make it seem wholly real… An impressive feat of empathy and imagination." –Jeff Alworth, Beervana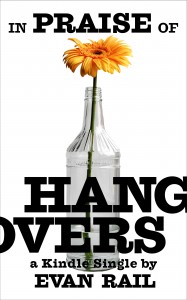 IN PRAISE OF HANGOVERS
You're going to be fine, although it definitely doesn't feel that way.
The spirited follow-up to WHY BEER MATTERS covers the history, biochemistry, literature, anatomy, etymology, philosophy and morality of the miserable morning after.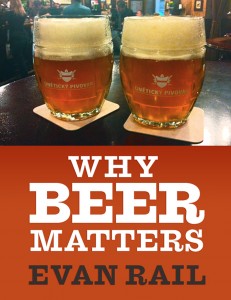 WHY BEER MATTERS
The bestselling Kindle Single — a to-the-point, pithy essay that investigates three causes for the renewed popularity of the world's greatest beverage.
"A thoughtful paean to the simple joy that beer rewards: at the end of the day — literally — it's the anticipation and the thing itself. Read the essay as the best conversation about beer with the person on the next bar-stool over… that you've never had." — Thomas Cizauskas
"It's truly a phenomenal piece of writing. Rail explores not only his own relationship with beer — how it affects his career, his travel and his writing — but how beer affects everyone associated with it, from brewers to consumers. He takes you on a journey that spans the globe and ends up in his living room. It's a deeply personal and wonderfully beer-geeky experience, that he relates in a easy-to-come-by manner — it really is a fantastic work." — Craig Gravina